MCR News
Serving the biomedical information needs of Arizona, Colorado, Idaho, Montana, New Mexico, North Dakota, South Dakota, Utah, and Wyoming.
Updated: 3 days 1 hour ago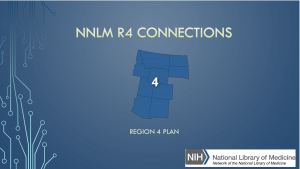 Thank you to all that attended our first bi-monthly "NNLM R4 Connections." It was a wonderful meeting where we, the NNLM R4 Team, had the opportunity to share with the region our plans as we move forward. The first presenters were our Communications Team, revealing methodology that will be utilized to communicate out to the region and methods to gather input. A multimodal approach was presented, covering emails, social media, etc…  
Dana Abbey, our Community Based Health Organizations (CBHO's) Engagement Coordinator, talked about plans she has moving forward and activities she is planning with partners throughout the region. A Jam board (https://tinyurl.com/NNLMR4FirstFeedback) was shared to gather feedback from participants to learn more about other partners and methods that she could use to reach CBHO's throughout the newly designed region. The same Jam board was utilized to gather information about preferable methods of communication. 
David Brown, our Public Health Organizations (PHO's) Engagement Specialist, talked about programming that he was also planning, communication he has had with entities in our region, and was very open to learning more from participants about what other methods they recommend he use to reach our region, in particular the new states that we have. He created a Mentimeter, to gather more information about what he could do, and what participants thought he should do as the Engagement Specialist for PHO's in the region. He will be analyzing the results and working to improve his work in this area taking into consideration the feedback that was gathered.  
George Strawley, our Libraries Engagement Specialist, presented his plans in this area. He also mentioned the awards that we currently have available encouraging participants to apply. (https://tinyurl.com/NNLMR4Awards). The same Jam Board used for both Communications and CBHO's was used to collect more information for him to consider in his program areas. 
John Bramble, our Executive Director, presented to us his responsibilities and how he saw us moving forward as a team. He also talked a little about Catherine Soehner's responsibility as the Principal Investigator of this project and the plans they had to help mentor the specialists and oversee the projects throughout the region.  
All Engagement Specialists were super excited about this meeting and the feedback that was gathered. They are looking into it to learn more about how they can improve and tweak programming in their areas to help increase programming within the region and compliment current programs.  
The meeting was recorded and is available at: https://youtu.be/IS-tQk9L81Q  
Stay tuned for our next "NNLM R4 Connections" meeting taking place November 11th 2021. See you then! 
Do not forget to join our listserv to learn more about activities in our region: https://tinyurl.com/NNLMR4-Listserv  
Yamila M. El-Khayat, MA serves as Communications and Citizen Science Specialist at NNLM (Network of the National Library of Medicine) Region 4. She has a passion for health information and working with all communities in particular traditionally marginalized communities. Yamila is a medical librarian at the University of Arizona. In working as a Librarian, she has been determined to increase health literacy to better serve the needs of the Latino and Native American populations, improving access to information related to the health of Native American, Hispanic, Border, Evidence-based, intercultural, bilingual and culturally appropriate. She has experience training information for clinicians, students, and community members, including health promoters/ "Promotores de Salud". 
The post
NNLM R4 Connections: First Meeting (September 2021)
first appeared on
Region 4 News
.
Our first scheduled gathering will take place Thursday, September 9th at 11:00 am MT. We will be doing a more in-depth introduction about our team and our plans as we move forward. We do want to hear more from you. Mark your calendars for tomorrow! We look forward to seeing you there.   
When: September 9th, 2021 – 11:00am MT 
Where: https://tinyurl.com/NNLMR4Connections 
Topic: NNLM Region 4 Ideas and Plans: Meet our staff and share your ideas 
The post
Don't Forget the NNLM R4 Connections-Bi Monthly Gatherings
first appeared on
Region 4 News
.
From October 2020 to July 2021, I had the opportunity to participate in the Wyoming Library Association Mentorship Program as a protégé. The purpose of this program is to assist all library staff to succeed in their library careers.  In this program the mentors provide protégés with a personal relationship that allows for acculturating, encouraging new talent, sharing expertise and connections, and promoting professional growth. During the times of COVID this was all done virtually.  
I saw this as an opportunity to further network and engage with libraries and librarians in the state of Wyoming. This opportunity would provide me more information about the state and its library system. One reason I was interested in this program is that I had recently moved to the state to take a position within the Midcontinental Region of the Network of the National Library of Medicine.   
To become a member of the mentorship program you must fill out an application that asks questions about why you want to be a part of the program and to establish some personal goals while involved in the program. This application applies both to mentors and protégées.  I completed the application and waited several weeks to be matched with a mentor.   
I was fortunate that for a mentor I received the Wyoming State Librarian (Jamie Markus). Jamie and I had monthly meetings throughout the program year. During these meetings, Jamie and I talked about the library structures and the policies that govern the library systems within the state. We also talked about the state library and its functions within the state. I also talked with Jamie about the upcoming changes to the Network of the National Library of Medicine as we were in the process of transitioning from the MidContinetal Region to Region 4.
During this program, I learned about the structure of the Wyoming Library System, The appropriations procedures in the state when it comes to library funding, and we completed the Clifton Strengths Finder. The Clifton Strengths Finder is a personality assessment that examines your responses to questions to find what areas are considered strengths for you.  Each of these activities was rewarding and provided me with a better understanding about Wyoming's Library System as well as opportunities to engage with Wyoming library professionals in a safe and virtual way during the COVID-19 Pandemic. 
Overall, I found this mentorship program a rewarding and engaging experience. I hope new professionals and existing professionals new to a region or state would consider joining a mentorship program.  I would also recommend established professionals to sign up as a mentor to help further develop the skills of librarians and help them navigate the profession they are choosing. The time and effort are worth it to further develop your skills in librarianship.  
For more information about the Wyoming Mentorship Program please see the following link.  
For more information about the Clifton Strengths Finder please see the following link. 
https://www.gallup.com/cliftonstrengths/en/252137/home.aspx 
– David Brown, Public Health Engagement Specialist and Outreach Specialist for the states of North Dakota, South Dakota, and Wyoming for the Network of the National Library of Medicine  Region 4
David M Brown holds a Doctor of Education with a specialization in health education from Teachers College Columbia University. He also holds a Master of Library and Information Science from Wayne State University. Additionally, he has two Masters of Arts Degrees from Columbia University one in computers and education and another in health education. He is a Master Certified Health Education Specialist. 
Dr. Brown has been involved in training public health professionals for the last 15 years, teaching and supervising research in health education and public health at a number of universities in both the United States and abroad.  He has served on the board of directors for the Society for Public Health Education.  He currently serves on the Divisional Board for the Certification of Health Education Specialists with The National Commission for Health Education Credentialing Inc. He has also served on several editorial boards related to health education and promotion. 
The post
Wyoming Library Association Mentoring Program
first appeared on
Region 4 News
.
The worldwide web has a ton of information, but as we know, not all information on the web is reliable. Finding credible resources in a library patron's or community member's preferred language that you don't speak can become especially tough. 
MedlinePlus (www.medlineplus.gov), put together by the National Library of Medicine, features a wealth of health information all coming from reliable sources that have been vetted by health professionals. When you are exploring the health information in MedlinePlus, take a moment to locate the materials available for your patrons who want languages other than English. 
The Health Information in Multiple Languages page gathers health resources covering 57 different languages – from Amharic to Yiddish –all in one place. These languages are slowly growing as the National Library of Medicine explores other sources of trust in other languages.  
The collection of handouts and other resources comes from an assortment of medical sources ranging from the Centers for Disease Control and Prevention to various National Institutes of Health to universities. All of the information is reliable and evidence-based. 
The selection of topics available can vary from language to language and from topic to topic. You will find a broad range of materials in Vietnamese but only two topics covered in Cape Verdean Creole. 
Titles include such consumer-friendly topics as "10 Things You Can Do to Manage Your COVID-19 Symptoms at Home" and "Safe Sleep for Your Baby."  
As with all of MedlinePlus, the resources in multiple languages are free and available at any time over the web. You will find a button linking to the page along with others at the bottom of the MedlinePlus home page. 
Some other helpful health resources incorporating multiple languages include these: 
SPIRAL

 (Selected Patient Information Resources in Asian Languages) is a product of Tufts University and covers eight languages.

 

Cancer Index

 provides a collection of links to health information in non-English languages.

 
The post
Find Health Information for Your Patrons in Other Languages
first appeared on
Region 4 News
.
In June 2021, I attended a virtual Colorado Regional Health Connectors (RHC) panel to learn about the Connector's work to improve the coordination of primary care, public health, human services and community health organizations throughout the state. The program is comprised of twenty-one regions reaching urban, rural, and frontier counties and provides an opportunity to understand local health needs that can vary widely from community to community.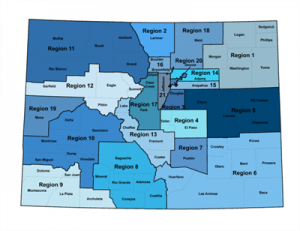 Figure 1 Colorado Regional Health Connectors Map  
Each RHC is hosted by a local organization that has an established relationship in the region and experience with community-based work. As a trusted member of the community, RHCs live and work in the area. They leverage their local knowledge to partner with clinical quality improvement teams to address new models of care, connect primary care with community-based behavioral health and social services, and recommend reliable resources to improve health outcomes.  
Three regions from the RHC  were present on the panel, and each Connector shared current projects: 
Shannon Borders from RHC Region 5 works to support success in agriculture for people with disabilities with the 

AgrAbility Project.

 Her collaborators include the Colorado Farm Bureau and the Rocky Mountain Farmers Union. 

 

Dee Kessler from RHC  Region 8 works to improve transportation options and through a grant developed 

MySLVConnect

 to provide up-to-date resources for community members in the San Luis Valley. 

 
Mary Burt from RHC Region 10 provides health education, basic health screenings, coaching, and casework support. She works to improve access to healthy food. Her collaborators include the public library, Tri County Health Network, and Cooking Matters.

 
I left this meeting with a huge sense of gratitude for the depth and breadth of work each of these Connectors carries out. Each was incredibly passionate about the communities they serve, and I hope to discover ways NNLM Region 4 can support their efforts.  
Further reading on the Colorado Regional Health Connectors program: 
-Dana Abbey, NNLM Engagement Coordinator – Arizona, Colorado, New Mexico 
Dana Abbey is an Engagement Coordinator with the Network of the National Library of Medicine, Region 4. For over 15 years, she has worked to improve the public's access to reliable information to enable informed decisions regarding health and to enhance access to evidence-based research for clinicians and the public health workforce.
The post
Colorado Regional Health Connectors Work to Improve Community Health
first appeared on
Region 4 News
.
The Network of the National Library of Medicine Training Office at the University of Utah Eccles Health Sciences Library is looking to hire a Training and Development Specialist.
The Instructional Design Specialist is integral to achieving successful outcomes for the Network of the National Library of Medicine (NNLM) Training Office (NTO). The NTO supports the training and educational mission of the NNLM by designing and delivering high-quality, innovative training to diverse audiences nationwide in support of the effective use of information products and services from the U.S. National Library of Medicine. The position provides expertise and guidance on various pedagogical approaches and best practices to support face-to-face, online, and hybrid course delivery. This position requires promoting the use of technology-based resources in teaching and learning, and providing consultation, instruction, and assistance to a national network of educators and librarians.


Responsibilities

Develop, review and test courses, including evaluating design and delivery techniques, developing visual aids, and considering media and technology selections. Example tasks may include:

Establish and maintain project management protocols for development and production of online classes
Communicate clearly with a variety of stakeholders, including subject matter experts, instructors, and outside collaborators.
Ensure all courses are based on best practices in instructional design and technology
Ensure all courses, materials, and related media comply with accessibility guidelines as mandated by Section 508 of the Rehabilitation Act.
Design and develop customized interactive materials and courses to enhance the learning experience
Edit instructional media and materials for online courses
Organize materials within a learning object repository
Provide training to staff in instructional design and technology and best practices in teaching. Example tasks may include:

Provide training in emerging instructional technologies
Provide training in best pedagogical approaches in teaching and training
Coordinate and collaborate on NNLM related program development, implementation with NNLM Regional Medical Libraries, Offices and Centers (ROCs).

Represent the NTO on appropriate NNLM committees, taskforces, or workgroups.

Participate in appropriate Eccles Health Sciences Library activities that support the NNLM Region 4 and NTO program. Participation in these activities should be limited to only those that are depended upon for the smooth function of the NNLM Region 4 program.

Qualifications

Bachelor's degree in a related area or equivalency. Demonstrated human relations and effective communication skills also required.
Expertise in content research, instructional design and delivery methods and experience delivering training to high level leaders is strongly preferred.
This position is not responsible for providing patient care.
Applicants must demonstrate the potential ability to perform the essential functions of the job as outlined in the position description.
PREFERRED:

Ability to work both individually and in a team setting, including with remote colleagues.
Excellent technical writing and verbal communication skills.
Comfortable with digital asset creation in an educational environment and related software applications, for example:
Documents (Microsoft Office, Google Docs)
Photoshop, Illustrator
Video and interactive e-learning Authoring Tools (Articulate Storyline, Adobe Captivate)
Screen Recording (Camtasia)
Experience with live webinar tools such as WebEx or Zoom.
Experience with a learning management system such as Moodle, Canvas, or Blackboard.
Project management and team leadership experience.
Familiar with building online courses for asynchronous and synchronous formats.
Preferred experience with Storyline and Camtasia, and WebEx, though candidates with experience in similar programs should apply.
Ability to quickly learn and master new technology and adapt to program changes.
A minimum of two years of online curriculum design experience is preferred.

Salary and Benefits

Based on experience, starting at $53,000 minimum annually. Position is a full-time, benefitted staff position.


Application Instructions

When applying for the position there will be a place for an optional "other" document type. Candidates are encouraged to include a work sample or link to a work sample, which demonstrates competency in one or more areas of qualification or preference.


Additional Information

The University of Utah values candidates who have experience working in settings with students from diverse backgrounds and possess a strong commitment to improving access to higher education for historically underrepresented students.

Individuals from historically underrepresented groups, such as minorities, women, qualified persons with disabilities and protected veterans are encouraged to apply. Veterans' preference is extended to qualified applicants, upon request and consistent with University policy and Utah state law. Upon request, reasonable accommodations in the application process will be provided to individuals with disabilities.

The University of Utah is an Affirmative Action/Equal Opportunity employer and does not discriminate based upon race, ethnicity, color, religion, national origin, age, disability, sex, sexual orientation, gender, gender identity, gender expression, pregnancy, pregnancy-related conditions, genetic information, or protected veteran's status. The University does not discriminate on the basis of sex in the education program or activity that it operates, as required by Title IX and 34 CFR part 106. The requirement not to discriminate in education programs or activities extends to admission and employment. Inquiries about the application of Title IX and its regulations may be referred to the Title IX Coordinator, to the Department of Education, Office for Civil Rights, or both.

To request a reasonable accommodation for a disability or if you or someone you know has experienced discrimination or sexual misconduct including sexual harassment, you may contact the Director/Title IX Coordinator in the Office of Equal Opportunity and Affirmative Action:

Director/ Title IX Coordinator
Office of Equal Opportunity and Affirmative Action (OEO /AA)
135 Park Building
Salt Lake City, UT 84111
801-581-8365
oeo@utah.edu

Online reports may be submitted at oeo.utah.edu
For more information: https://www.utah.edu/nondiscrimination/

To apply, please go to the University's careers page: https://employment.utah.edu/salt-lake-city-ut/training-development-specialist/DAEE6410DB7643D4A67A3A8ED7955BA6/job/

To inquire about this posting: email employment@utah.edu or call 801-581-2300.
– Carmin Smoot
The post
NNLM Hiring Training & Development Specialist
first appeared on
Region 4 News
.
Because we were having technical difficulties with our website, we have decided to extend our deadline. It is now August 20, we are anxious to read your proposals.   
The Network of the National Library of Medicine, Region 4 (NNLM Region 4) invites applications for health information outreach, programming projects, and professional development opportunities. We want to see your application.   
The mission of the Network of the National Library of Medicine is to advance the progress of medicine, improve public health by providing U.S. health professionals with equal access to biomedical information, and improve individuals' access to information to enable them to make informed decisions about their health. Under a Cooperative Agreement with the National Library of Medicine (NLM), the University of Utah Health Sciences Library System serves as the Regional Medical Library for NNLM Region 4.  
Period of Performance: September 6, 2021 – April 15, 2022 

 

Due Date:  August 20th, 2021

 

Notification of Awards:  September 3rd , 2021

 
Eligibility: Network member organizations in Region 4 (Arizona, New Mexico, Utah, Colorado, Wyoming, Idaho, Montana, South Dakota and North Dakota) are eligible to apply. Membership is FREE and open to libraries, community-based organizations, clinics, public health departments and other organizations that provide or distribute health information. 
Awards to NNLM Region 4 member organizations help advance the goals of the NLM Strategic Plan and help us achieve two National Network Performance Measures:  
Engage Network members in carrying out the mission of NNLM. 

 

Maintain a robust outreach and education program reaching the region's communities and responsive to their needs. 

 
For more information about these awards, please visit:   https://old.nnlm.gov/mcr/funding 
Available awards include:  
Professional Development Award

 

 
The purpose of this award is to support the professional development needs of librarians/information professionals and library/information school students* at NNLM Region 4 member institutions to improve their ability to grow and advance their skills as health information professionals.  
* Supports travel awards for students and health occupation students interested in a health information, career, with a maximum amount of $2,000.   
Program Improvement Award

 

 
The purpose of these awards is to support short-term projects that involve program improvement to advance access to health information resources. We anticipate funding approximately four awards in our region (AZ, NM, CO, UT, WY, ID, MT, ND and SD) each consisting of approximately $5,000 dollars.    
Engagement and Outreach Award

 

 
The purpose of these awards is to develop new or enhance existing collaborative projects among all library types to increase awareness and use of NLM resources. We look forward to funding five awards ranging in approximately $5,000 dollars.   
RML staff members are available to answer questions about the awards, or to discuss potential project ideas. email us at:  rml4@rml4.utah.edu .   
We look forward to seeing your proposals!  
The post
We have extended our deadline! NNLM Region 4 Funding Opportunities 
first appeared on
Region 4 News
.